East Timor, a coveted territory
2019-09-06T13:43:25.881Z
The strategic location and the oil and gas wealth of this half island of Southeast Asia arouses the appetite of the Indonesian, Australian and Chinese powers.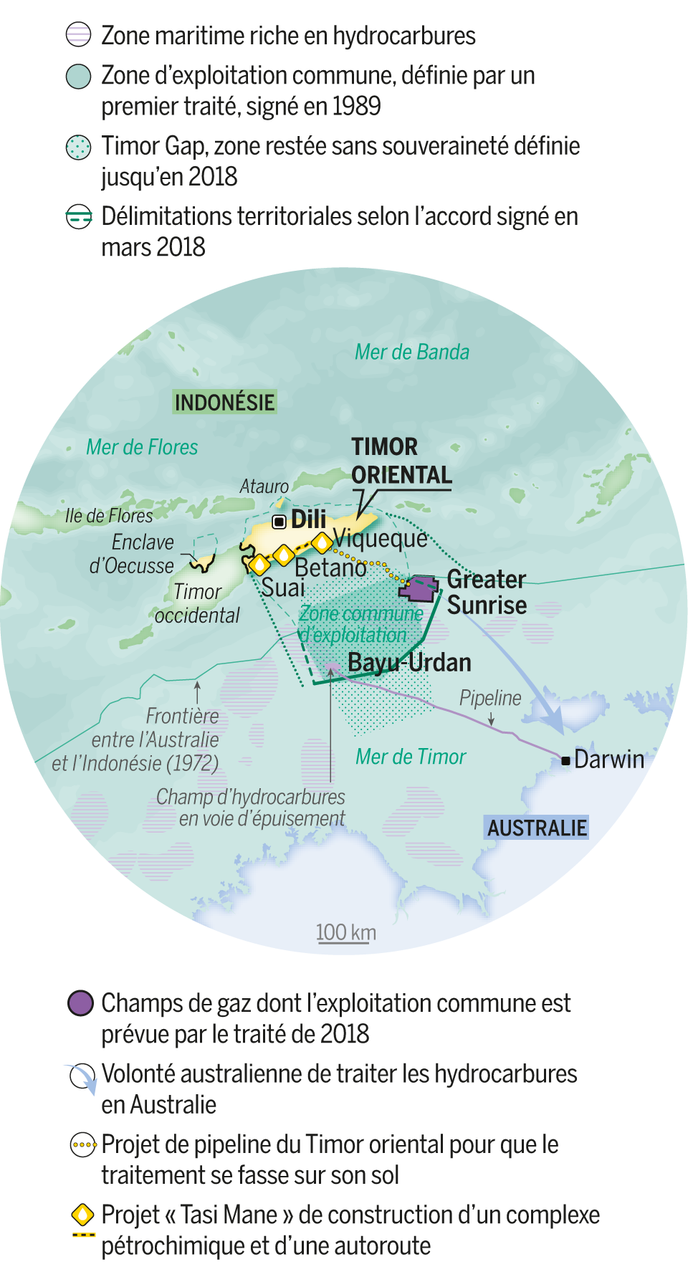 ---
Subscribers article
Oil wealth coveted by Australia
Between Australia and East Timor, relations are complex because of the presence of huge gas and oil reserves in the Timor Sea, which separates the two states. Long exploited for the benefit of Australia, this wealth is essential for East Timor.
Infographie Le Monde
Calm relations with Indonesia
Relations with Indonesia, the former occupying power, are now appeased after long years of conflict that have killed between 100,000 and 200,000 people in a country of 700,000 at the time. As a direct neighbor, he has become the essential economic partner.
Infographie Le Monde
A growing Chinese presence
Like everywhere in the region, China is investing and setting up in a context of confrontation with the United States, which is worried about their interests.
Infographie Le Monde
XVIth century.

The Portuguese colonize the island of Timor.

1859. Portugal cedes the western part of the island to the Dutch.

She will become Indonesian during the Independence of Indonesia in 1945.

1975. On November 28, the Revolutionary Front of Independent East Timor declares the independence of the country.

On December 7, Indonesia invades the territory.

1976. Australia recognizes annexation by Indonesia and blocks motions on self-determination of East Timor to the United Nations until 1998.
1989. Australia signs with Indonesia the Timor Gap Treaty, establishing the joint exploitation of hydrocarbons, largely in its favor.
1991. The Indonesian army massacred 250 people in Dili, in the cemetery of Santa Cruz.
1999. 78.50% of Timorese voters vote for independence in a referendum under the aegis of the UN.
2002. East Timor becomes independent.
2011. East Timor asks to join Asean.

Its member countries are reluctant because of its economic fragility and China's influence on the country.

2018. Treaty with Australia on the exploitation of hydrocarbons and the delimitation of the international frontier.
Sources: D. Willis, "Timor-Leste's Geopolitics Complex: the Local, the Regional and the Global"; C. Cabasset, "Between East Timor and Australia, the Frontier Issue of Maritime Resources", Asialyst; D. Ortolland and JP Pirat, Geopolitical Atlas of the Oceans, Technip, 2017; NGO Lao Hamatuk; Democracy Index 2018; Government of East Timor; UNDP; INSEE; World Economic Forum
This news is expired in our cache, please access its source.
Similar news: