Indonesian Papua plagued by violent riots
2019-08-30T10:40:44.810Z
A brutal police raid has led to the uprising of many Papuans, frustrated for decades to be attached to Jakarta.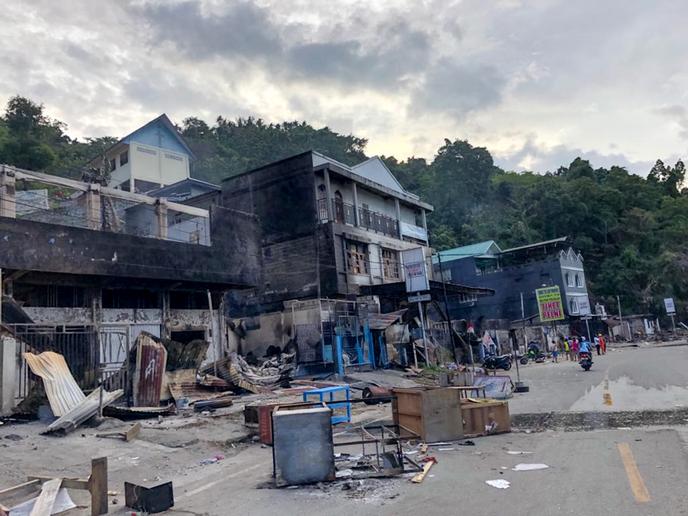 ---
Subscribers article
Stores destroyed in Jayapura, Papua province, Indonesia, August 30. BRAM / AFP
Anger is growing in the two provinces of Papua Indonesia, located in the west of Papua New Guinea. The region has been plagued for ten days by an uprising that has spread to all major cities. According to reports, six people were killed in clashes in a central district, Deiyai, on Wednesday (August 28th), when police fired live ammunition at protesters. The police, meanwhile, confirmed one dead in his ranks and two in those of the protesters.
The unrest began after a police raid not on the island of Papua but in the second largest city of Indonesia, Surabaya, August 17, the date of the Independence Day. On this occasion, the inhabitants of the archipelago must hoist the red and white flag in front of their home.
That day, allegations that students of the Papuan minority tore a flag that floated in front of their dormitory, before throwing it into the gutter, went back to the local police. The officers conducted a major on-scene operation, entering by force and using tear gas. Forty-three youths were taken to the station. Videos circulated the following days on social networks in the Papuan community, showing policemen and members of a local nationalist militia treating students of "monkeys" and "dogs" . The army said the officers in question would be called to order.
Read also: Mixed opinions on the transfer of the Indonesian capital
It was enough for the Papuans to mobilize after decades of political frustration. Formerly a Dutch colony, the western half of the island of Papua was attached to Indonesia from Sukarno after a 1962 agreement, providing for the organization under seven years of a self-determination referendum for this Melanesian people. In 1969, only 1,025 citizens carefully nominated by the Indonesian military were called to vote, and unsurprisingly opted for joining Indonesia, a process approved by the United Nations.
Indonesian Papua has since fallen prey to a pro-independence movement, violently repressed by the central authorities, and incarnated by an armed rebellion, the Organization for a Free Papua.
"The morning star"
As early as 19 August, protesters descended on the streets of Manokwari, the provincial capital of West Papua, and set fire to the local parliament. A prison was also set on fire, allowing 250 convicts to flee. Mobilization has not stopped since. Internet was cut on the spot, in order to avoid, according to Jakarta, that spread the false rumors, but the population sees there an attempt to stifle the movement, and at least one office of a telecom company was fire.
This news is expired in our cache, please access its source.