Suspending the British Parliament, Boris Johnson aggravates the Brexit crisis
2019-08-29T03:13:49.792Z
The decision of the Prime Minister will drastically limit the room for maneuver of parliamentarians "conspirators".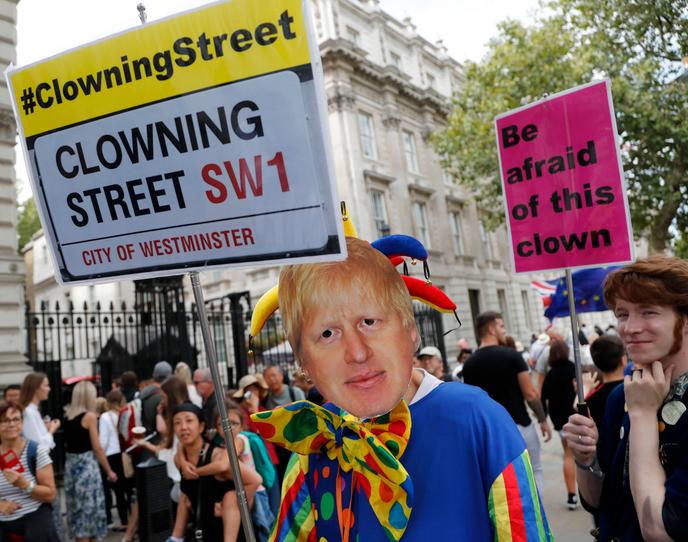 ---
Subscribers article
Demonstration against the British Prime Minister in front of Downing Street, London, August 28, treating Boris Johnson as a "clown". FRANK AUGSTEIN / AP
College Green, the public park that faces Westminster, was quickly crowded with people. Families of holidaymakers, deputies, activists, executives just out of the office ... It is 5.30 pm, Wednesday, August 28, it is still beautiful in London, they are several thousand spontaneously gathered in this emblematic place of anti-human demonstrations. Brexit, in front of the British Parliament and they shout at full throats: "Stop the blow! Stop the blow! Stop the blow! [stop the coup!] "
Prime Minister Boris Johnson surprised everyone this morning by announcing the suspension of the British Parliament for five weeks from the beginning of September (between the 9th and 12th) and until October 14th, leaving no more MEPs only a week in early September, then a fortnight at the end of October, to discuss a deal or a "no deal" (Brexit without agreement) before the October 31st cut.
Article reserved for our subscribers Read also Brexit: Boris Johnson prepares the EU and the UK for a "no deal"
Limit the flexibility of "plotters"
The goal of the Prime Minister, who repeats every day that he wants to achieve a divorce with the European Union (EU) on time, seems obvious. His decision, which was approved by the Queen in the afternoon on Wednesday (the sovereign had no choice) will drastically limit the room for maneuver of parliamentarians "conspirators", who wanted to take advantage of the month September to derail a possible "no deal". They will not be able to debate Brexit before October 21, 10 days before the deadline, calculated the British media ...
On Tuesday, August 27, a hundred deputies including Labor, Libdem, Greens, Scottish independence and some defectors from the Conservatives, had just managed to put their divisions aside to sign a "declaration of Church House" to do derail an exit without EU agreement.
"This is not about preventing parliamentarians from stopping a deal," defended Mr. Johnson on Wednesday. "They will have plenty of time" in October to discuss "the EU, Brexit, and all other topical issues. The argument did not really go to a country that literally saw the birth of parliamentary democracy, and where the House of Commons is commonly referred to as the "mother of Parliaments".
This news is expired in our cache, please access its source.
Similar news: