"Prorogation" of the British Parliament: what is it
2019-08-29T09:16:26.983Z
No legal mechanism allows members to oppose an extension.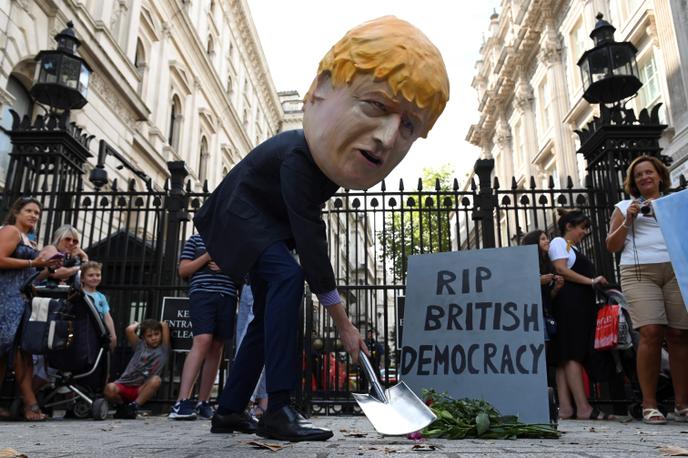 ---
During a demonstration against the prorogation of Parliament, August 28 in London. DANIEL LEAL-OLIVAS / AFP
Boris Johnson announced Wednesday, August 28, the "prorogation" (suspension) of the British Parliament between September 9 or 12 and October 14, reducing the time of debate for parliamentarians, less than sixty-three days Brexit, scheduled for October 31st.
Prorogation is a formal way of ending a parliamentary session. The suspension usually lasts a short time, before the start of a new session inaugurated by the Queen's speech, which presents the legislative agenda of the government. At the beginning of prorogation, the Parliament (House of Lords and Commons) is suspended, it interrupts all discussions or debates in progress. Prorogation usually takes place in the fall. The current parliamentary session began in June 2017, and is the longest in four hundred years since it lasted "more than three hundred and forty days," Johnson said in a letter to MPs on Wednesday.
Article reserved for our subscribers Read also Suspending the British Parliament, Boris Johnson aggravates the Brexit crisis
How long does it last normally?
According to a June study by the House of Commons, "the typical length of parliamentary prorogation has been very short" in recent years: "Since the 1980s, extensions have rarely lasted more than two weeks. Prorogation occurs systematically after a general election. Prorogation was only very occasionally used to limit parliamentary debates.
In 1949, it was decided by the prime minister at the time, Labor Clement Attlee. Some commentators refer to the decision of King Charles I in 1629, which never ceased to oppose the English Parliament. It ended very badly - by civil wars and his beheading.
Article reserved for our subscribers Read also In Brussels, negotiations on Brexit continue without illusions after the suspension of Westminster
The prorogation or convening of a parliamentary session, historically, were royal prerogatives. From now on, it is the government that decides. There is no legal mechanism allowing members to oppose a prorogation. They can, if necessary, approve legislation reducing its duration.
Cecile Ducourtieux (London, Correspondent)
This news is expired in our cache, please access its source.
Similar news: